The definitive guide to Training PBE
Everything you need to know
Training air crew in firefighting is an essential element in the initial and recurrent training of commercial crew, which includes the donning and operation of PBE (Portable Breathing Equipment).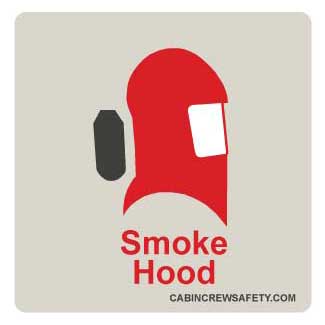 For training purposes there are solutions, depending on whether the training is being delivered in a classroom environment or simulated training in a CEET.
Classroom PBE models for desktop reference
A desktop reference model is designed to show to crew in training what is 'inside the box' in a classroom teaching environment. It allows training staff to open and remove the PBE from its enclosure and packing, which gives a cost effective solution for large groups or where familiarisation across multiple models is required.
Desktop reference models are re-worked original equipment and are not designed for wearing.
Desktop reference models are not fully representative in operation or weight
They are designed to be a sealed unit in operation and therefore breathing could be impaired
They are manufactured as a one use product, not designed for the rigours of constant removal and refitting.
Aircraft operators and training organisations are required to familiarise crew with the donning and operation of training smoke hoods and for this, a training smoke hood is required.
Common desktop reference PBE models
Essex Industries (For reference training of OEM parts starting MR-100 onwards)
Scott Avox (For reference of OEM part 802300-14)
Air Liquide (For reference of OEM parts starting 15-40F onwards)
Training PBE models
A training reference PBE model is generally a manufactured representation of the original equipment but designed for the rigours of repetitive use, donning and removal. It also has removable parts for replacement of damaged items or training PBE cleaning.
Training smoke hoods are more expensive than desktop models
The training PBE are fully representative in operation and weight
Training smoke hoods feature breathing holes for user comfort and safety
Training PBE are hard wearing for long and demanding use
The equipment can be disassembled for cleaning and repair
Common training PBE models
Representative training smoke hoods have replacement neck seals, which can be easily replaced when damaged in use.
Aircraft PBE stowage brackets
For stowage in the classroom or in a training simulator, the original aircraft brackets are available for convenience and for training in the removal of equipment from its stowed position on the aircraft.
Certification & Documentation
As training smoke hoods are representations of airworthy emergency equipment they are not supplied with any airworthiness certification.
First published by Cabin Crew Safety Ltd on July 10th 2020
Article: 'The definitive guide to Training PBE'

About Cabin Crew Safety Ltd: Cabin Crew Safety are a global supplier to commercial aviation worldwide. Based in the United Kingdom and uniquely positioned in aviation safety; supplying both active safety equipment to aircraft operators but also training representations necessary in the initial and recurrent training of commercial air crew training.

Press Contact: press@cabincrewsafety.aero