Drager Oxycrew CAS model
Portable Breathing Equipment part E28180-20-0011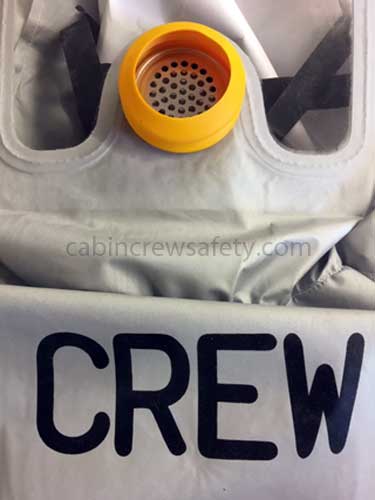 The latest version of the popular Drager type PBE continues the trend for smaller packed PBE's in the cabin and the Oxycrew CAS (Cabin Attendant Seat) sits alongside the standard package model E28180-20-0001 but offers a much smaller packing container.
With physically the same smoke hood packed in both models the new Drager Oxycrew CAS box only measures 70mm x 315mm x 315mm (2.75"x12.4"x12.4") and this means that there is no need for updated training PBE or retraining crew on the donning and operation of the unit. Aircraft operators, Declared Training Organisations (DTO) and Approved Training Organisations (ATO) may wish to procure the Drager CAS box for training reference and familiarisation.
The part number for the Oxycrew CAS model is E28180-20-0011. The standard Drager PBE, known as E28180-10 and now E28180-20-0006.
First published by Cabin Crew Safety Ltd on March 14th 2019
Article: 'Drager Oxycrew CAS model'

About Cabin Crew Safety Ltd: Cabin Crew Safety are a global supplier to commercial aviation worldwide. Based in the United Kingdom and uniquely positioned in aviation safety; supplying both active safety equipment to aircraft operators but also training representations necessary in the initial and recurrent training of commercial air crew training.

Press Contact: press@cabincrewsafety.aero