Personal Protective Equipment for the aircraft cabin
Cost effective PPE kits for airline passengers
Small, lightweight and low cost, this new PPE kit contains common hygiene items for passengers and air crew to use on their journey. Each pre-packaged kit includes a mask, a pair of gloves, a hand sanitising wipe and a disinfecting surface wipe. Pre packed in a sealed disposable pouches these handy passenger kits are small and easy to tear open.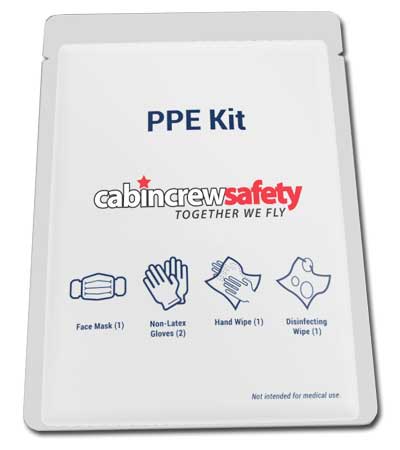 Customisation available
Depending on the volumes required the kits contents and graphics can be customised with operator specific logos and branding.
Key benefits
Individual disposable packs, heat sealed for sanitation
Customisable logo and branding available
Various language options
Customisable contents to fit specific requirements
The PPE travel kit is perfect for use by passengers in the aircraft cabin, as well as other transportation and enclosed environments.
Part numbers
PPE kit contents
| Item | Item Description | Quantity |
| --- | --- | --- |
| 1 | Face Mask | 1 ea. |
| 2 | Non Latex Gloves, size large | 2 ea. |
| 3 | Hand Sanitizing Wipe | 1 ea. |
| 4 | Disinfecting Surface Wipe | 1 ea. |
The passenger PPE kit contents are not intended for medical use.
First published by Cabin Crew Safety Ltd on December 18th 2020
Article: 'Personal Protective Equipment for the aircraft cabin'

About Cabin Crew Safety Ltd: Cabin Crew Safety are a global supplier to commercial aviation worldwide. Based in the United Kingdom and uniquely positioned in aviation safety; supplying both active safety equipment to aircraft operators but also training representations necessary in the initial and recurrent training of commercial air crew training.

Press Contact: press@cabincrewsafety.aero