The Summer Seat Sale
Zodiac Z100 aircraft seats on sale
@DLM, London, May 25th 2020.
Cabin Crew Safety (cabincrewsafety.aero) are offering two full shipsets of modern lightweight Zodiac Z100 seat assemblies for narrow body passenger cabins (Airbus A320 and Boeing B737 aircraft) for sale.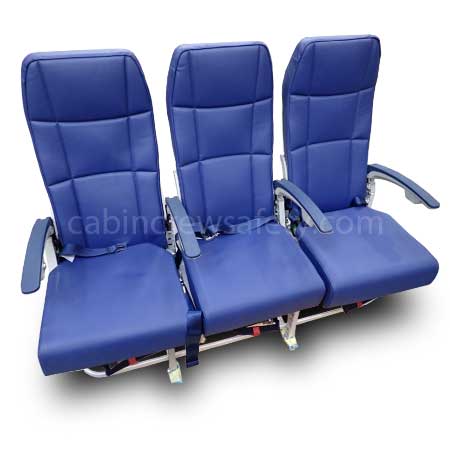 Ready to ship anywhere in the world, this shipset of seats are finished in leather the seat assemblies have no IFE, are fitted with seat trays and stowage pockets and are supplied with colour matched safety belts too.
Narrow body aircraft seat shipset
The cabin shipset includes parts numbers:
Aircraft passenger seat assembly Zodiac Z100 model part 882426-406
Aircraft passenger seat assembly Zodiac Z100 model part 882426-405
Aircraft passenger seat assembly Zodiac Z100 model part 882426-404
Aircraft passenger seat assembly Zodiac Z100 model part 882426-403
Aircraft passenger seat assembly Zodiac Z100 model part 882426-402
Aircraft passenger seat assembly Zodiac Z100 model part 882426-401
First published by Cabin Crew Safety Ltd on May 29th 2020
Article: 'The Summer Seat Sale'

About Cabin Crew Safety Ltd: Cabin Crew Safety are a global supplier to commercial aviation worldwide. Based in the United Kingdom and uniquely positioned in aviation safety; supplying both active safety equipment to aircraft operators but also training representations necessary in the initial and recurrent training of commercial air crew training.

Press Contact: press@cabincrewsafety.aero