Custom Cabin Kit
Extended range of safety equipment valises for your aircraft cabin
@DLM, London, May 12th 2020. Cabin Crew Safety announce an extension to their established range of fully customisable valises for stowage of required safety equipment used onboard commercial aircraft.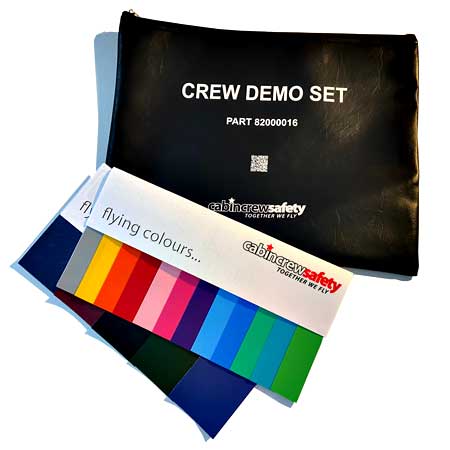 Available as a standard range of products or fully customisable, the cabin equipment valise range from Cabin Crew Safety includes:
Standard Products
Aircraft Cabin Safety Demo Kit (complete with contents for the crew safety demo).
Passenger extension belt stowage valise (complete with extension belts).
Universal Precaution Kit (complete with contents).
Customisation
All items can be fully customised to aircraft operator requirements. These options include but are note limited to:
Custom valise sizing
Custom colours to match corporate branding
Operating airline company logo (screen print)
Zipper or hook and loop closure
Operational Certification
All items are supplied with a CofC and are fire retardant treated to meet the requirement specified in EN ISO 11925-2 and the requirements of 28 - FAR/JAR/CS 25.853 (a) Appendix F.
First published by Cabin Crew Safety Ltd on May 12th 2020
Article: 'Custom Cabin Kit'

About Cabin Crew Safety Ltd: Cabin Crew Safety are a global supplier to commercial aviation worldwide. Based in the United Kingdom and uniquely positioned in aviation safety; supplying both active safety equipment to aircraft operators but also training representations necessary in the initial and recurrent training of commercial air crew training.

Press Contact: press@cabincrewsafety.aero