Aircraft cabin waste is in the bag
An extended range of cabin gash bags for aircraft operators
London, October 30th 2019. Cabin Crew Safety has today announced that they have extended their very popular range of durable and hard wearing commercial aircraft cabin gash bags to include several new options for aircraft operators.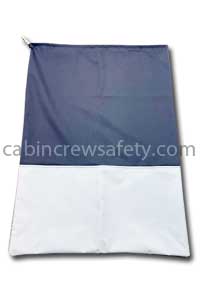 The standard model (part reference 82000020) from Cabin Crew Safety is offered in navy blue fabric and features a white draw string close cord now has several options, which include:
Hook and loop closing or draw string options
Different canvas colours to match the airline branding
PVC base for added durability and liquid resistance
Stitched text on the bag for operator name etc.
However the cabin waste gash bag can be further customised to operator needs, if and when required.
First published by Cabin Crew Safety Ltd on October 30th 2019
Article: 'Aircraft cabin waste is in the bag'

About Cabin Crew Safety Ltd: Cabin Crew Safety are a global supplier to commercial aviation worldwide. Based in the United Kingdom and uniquely positioned in aviation safety; supplying both active safety equipment to aircraft operators but also training representations necessary in the initial and recurrent training of commercial air crew training.

Press Contact: press@cabincrewsafety.aero