Jump at the chance for new crew seats
New stocks of A330 A340 attendant seats
London, October 15th 2019. Cabin Crew Safety are pleased to announce fresh stocks of Airbus jump seats for the A330/A340 cabin. Produced by Sicma Aeroseat this comprises of eight crew jump seats, which are offered as either individual or multiple seats.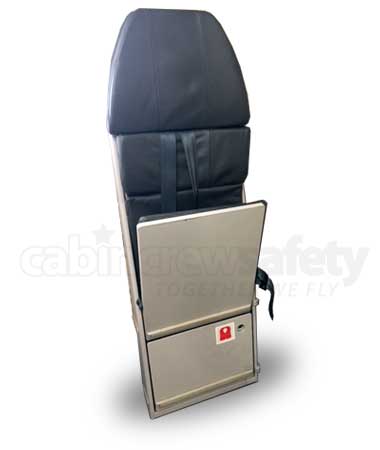 Finished in hard wearing grey leather and including the AMSAFE four point restraint the crew seats are offered uncertified, for training or can be re-certified for installation back in an operational aircraft cabin.
Part numbers for the cabin attendant jump seats are:
Flight attendant seats for other aircraft models are also available from Cabin Crew Safety.
First published by Cabin Crew Safety Ltd on October 15th 2019
Article: 'Jump at the chance for new crew seats'

About Cabin Crew Safety Ltd: Cabin Crew Safety are a global supplier to commercial aviation worldwide. Based in the United Kingdom and uniquely positioned in aviation safety; supplying both active safety equipment to aircraft operators but also training representations necessary in the initial and recurrent training of commercial air crew training.

Press Contact: press@cabincrewsafety.aero