Creating quality lifesavers
Improved CPR training quality and crew engagement for AvMed training
We know there's no Emergency Room at 40,000 feet and CPR training is an essential element in cabin crew training however, it can been a challenge for training delivery instructors to provide accurate and objective feedback on crew performance. Until now.
The Little Anne range of CPR manikins has been the standard in the training classrooms for a long time and now Little Anne has new features and improvements; QCPR Little Anne. QCPR models, including infant and child as well as Anne are now available with a gaming element and feedback technology. This helps instructors improve both CPR training quality, classroom efficiency and learning engagement.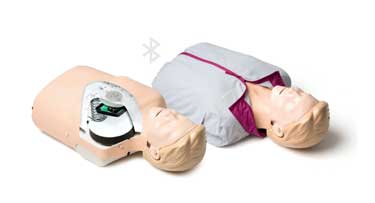 Little Anne QCPR and the QCPR family range now feature Bluetooth connectivity that can link up to six manikins to a suitable Apple or Android device to provide real time monitoring of CPR training delivery. This allows instructors to identify key performance indicators and quality of CPR delivery. Areas which require improvement can be easily identified and the crew member directed to the required action in real time. In an air crew training environment this offers measurable and recordable delivery of CPR training to larger groups of learners, as is often the case in cabin crew training.
As well as the App the SkillGuide module provides a cost effective way of measuring the quality of CPR delivery to an individual manikin. One SkillGuide module per Little Anne in the training room.
Cabin Crew Safety, the specialist aviation training company, is the authorised aviation distributer of Laerdal, all Laerdal QCPR manikins, accessories and replacement parts at the manufacturer's list prices.
First published by Cabin Crew Safety Ltd on April 18th 2019
Article: 'Creating quality lifesavers'

About Cabin Crew Safety Ltd: Cabin Crew Safety are a global supplier to commercial aviation worldwide. Based in the United Kingdom and uniquely positioned in aviation safety; supplying both active safety equipment to aircraft operators but also training representations necessary in the initial and recurrent training of commercial air crew training.

Press Contact: press@cabincrewsafety.aero