Double seats are just the business
Aircraft double business class seats for sale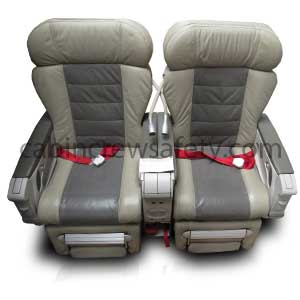 The Ultimate in professional luxury which you would associate with business class, our seats are finished in 3 shades of grey leather and were recently removed from an operational aircraft cabin with full trace.
As you would expect these seats offer sumptuous comfort along with the extras you look for such as Goose neck reading lights, arm mounted trays along with stow away foot stools and a standard seat recline option.
We can offer you a complete business class ship set or pairs of right and left of Cabin to compliment your training environment or aircraft.
You may also be interested in other seats we have available:
First published by Cabin Crew Safety Ltd on December 18th 2018
Article: 'Double seats are just the business'

About Cabin Crew Safety Ltd: Cabin Crew Safety are a global supplier to commercial aviation worldwide. Based in the United Kingdom and uniquely positioned in aviation safety; supplying both active safety equipment to aircraft operators but also training representations necessary in the initial and recurrent training of commercial air crew training.

Press Contact: press@cabincrewsafety.aero