Oxygen Compartment Manual Release Tools
Expanded range of MRT for aircraft and training use
The Manual Release Tool (MRT) is a required piece of emergency equipment which is stowed in the storage compartment of the jump seat located at the crew station in the cabin.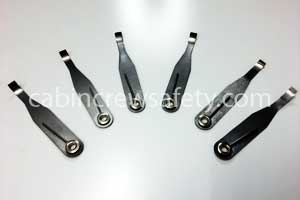 These small metal tools are used to assist in the deployment of the passenger cabin oxygen masks, located in the overhead Passenger Service Unit (PSU) in the event that the compartment fails to open when oxygen is required in an emergency situation.
Two Manual Release Tool (part 995000) parts are available from Cabin Crew Safety; either a training reference version of certified model for flight operations, with comes with an FAA 8130-3 airworthiness certificate.
More detailed information can be found out the Cabin Crew Safety online store.
Passenger Service Unit Manual Release Tool (MRT)
First published by Cabin Crew Safety Ltd on May 21st 2018
Article: 'Oxygen Compartment Manual Release Tools'

About Cabin Crew Safety Ltd: Cabin Crew Safety are a global supplier to commercial aviation worldwide. Based in the United Kingdom and uniquely positioned in aviation safety; supplying both active safety equipment to aircraft operators but also training representations necessary in the initial and recurrent training of commercial air crew training.

Press Contact: press@cabincrewsafety.aero