Cabin simulators covered
Cabin seating track completes the cabin look
London, May 1st 2018. Extending the range of parts and equipment for air crew training simulators Cabin Crew Safety today announced a new range of aircraft cabin seat rails and covers to compliment any training cabin build.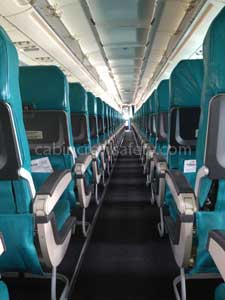 Joining other passenger cabin, aircraft galley and crew station products in the range two styles of aluminium passenger seating rails have been announced today, which allow passenger seating to be quickly and easily fixed to a training simulator or classroom floor. As well as allowing quick repositioning for cabin class reconfiguration or removal for cleaning.
Completing the cabin seating track offer, a range of plastic covers are also now available to protect the track from dust and dirt entering from the cabin floor.
Air crew training cabin furnishings:
First published by Cabin Crew Safety Ltd on May 1st 2018
Article: 'Cabin simulators covered'

About Cabin Crew Safety Ltd: Cabin Crew Safety are a global supplier to commercial aviation worldwide. Based in the United Kingdom and uniquely positioned in aviation safety; supplying both active safety equipment to aircraft operators but also training representations necessary in the initial and recurrent training of commercial air crew training.

Press Contact: press@cabincrewsafety.aero