Cabin Crew Jump Seats
New stocks of Airbus Cabin Crew Seats
London, April 6th 2018. The Cabin Crew Safety team are pleased to announce that we have acquired ex-service crew jump seats (Sicma Aeroseat) for the Airbus A340 aircraft. These are great examples and very rare, finished in dark grey leather and complete with the four point harness they are great for regular use in the crew training hall.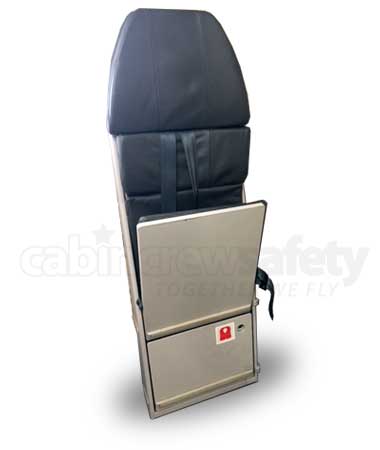 We can also supply additional products for training, such as cabin interphone handsets, life vests and other aircraft emergency equipment.
Hurry! We only have five remaining crew seats and we are not expecting such a quantity in the near future.
First published by Cabin Crew Safety Ltd on April 6th 2018
Article: 'Cabin Crew Jump Seats'

About Cabin Crew Safety Ltd: Cabin Crew Safety are a global supplier to commercial aviation worldwide. Based in the United Kingdom and uniquely positioned in aviation safety; supplying both active safety equipment to aircraft operators but also training representations necessary in the initial and recurrent training of commercial air crew training.

Press Contact: press@cabincrewsafety.aero