The EpiPen Trainer
Extended Range of Aviation Medical Training Equipment
London, UK, December 22nd 2017 Cabin Crew Safety, announced today that is has added the EpiPen™ Trainer as a stock item and available for order as part of their AvMed training equipment.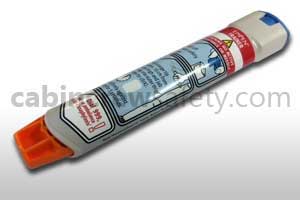 Anaphylaxis is a serious problem and relies upon the quick response of those around the sufferer. Once anaphylaxis is identified it is imperative the EpiPen™ is administered at speed for the treatment of sudden life threatening allergic reactions to insect bites or stings, food such as peanut allergy, drugs or exercise. Some airlines have the EpiPen™ ready to use on board for these emergencies. Cabin Crew and Airline staff will need training and guidance on administering a dose of adrenaline.
The anaphylactic trainer is designed for the training room and is easily distinguishable from the real Auto-Injector. You can use an EpiPen™ Trainer to demonstrate to carers, work colleagues, friends and family, so they are familiar with how to administer an EpiPen™.
The EpiPen™ Trainer is reusable and allows the trainee/trainer to practice as many times as needed.
First published by Cabin Crew Safety Ltd on December 22nd 2017
Article: 'The EpiPen Trainer'

About Cabin Crew Safety Ltd: Cabin Crew Safety are a global supplier to commercial aviation worldwide. Based in the United Kingdom and uniquely positioned in aviation safety; supplying both active safety equipment to aircraft operators but also training representations necessary in the initial and recurrent training of commercial air crew training.

Press Contact: press@cabincrewsafety.aero