OXYCREW PBE part number change
Impact for operators training crew
It has been some years since B/E Aerospace Systems issued their product update for their OXYCREW Portable Breathing Equipment, which resulted in the part E28180-10 becoming the E28180-20 part. With -10 models now reaching end of life with aircraft operators the familiarity of crew with the operation of the PBE in training can raise questions.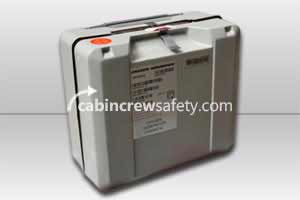 Originally released in March 2011, the below is an excerpt from a B/E Aerospace release concerning the part number change, which covers the question of training crew in OXYCREW operation.
"Due to supply chain robustness concerns and part availability we have carefully reviewed all major sub suppliers and their performance. Based on the result it has been decided that we will switch some materials used for manufacture of the OXYCREW to prevent from material becoming obsolete. The performance of the new material will be equal or better that that of the previous material.
The above changes are driving a minor design change, which will require a part number roll.
The new OXYCREW will be identical in form, fit and function. Therefore no additional training is required if the previous OXYCREW is used. The dimensions of the smoke hood and stowage box as well as the donning and doffing procedure are also identical to the previous OXYCREW.
With conclusion of all qualification activities EASA granted ETSO authorisation EASA.210.10033740 on February 8th 2011 to B/E Aerospace Systems for OXYCREW E28180-XX-YYYY - Series."
First published by Cabin Crew Safety Ltd | August 2017-08-10
Article: 'OXYCREW PBE part number change'

About Cabin Crew Safety Ltd: Cabin Crew Safety are a global supplier to commercial aviation worldwide. Based in the United Kingdom and uniquely positioned in aviation safety; supplying both active safety equipment to aircraft operators but also training representations necessary in the initial and recurrent training of commercial air crew training.

Press Contact: press@cabincrewsafety.aero