FKK8/35KL issuance of EASA Form 1
Manufacturers press release
London, UK, May 2016 with immediate effect the fire resistant gloves (stock reference 90000001 - OEM Reference FKK8/35KL) will no longer be offered with EASA Form 1 certification following a manufacturer's review with the Civil Aviation Authority in the UK.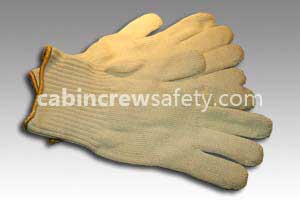 From the manufacturer (dated May 24th, 2016):
"Following feedback from a couple of our customers, it has been brought to our attention that we should not have been issuing EASA Forms 1 with fire-resistant gloves for use on aircraft which have been supplied to you by us. This applies to models FKK8/35KL, FKK7/35KL and FJTZ7/FKK8/35KL.
After consultation with the Civil Aviation Authority (CAA) in the UK who have advised that an EASA Form 1 should not be required for fire gloves as they are not 'aeronautical products, parts and/or appliances intended for airborne use as part of a type-certificated product', we have decided to replace the EASA form 1 with a manufacturer's EC Type Declaration/Certificate of Conformity.
Please be assured that this process does not affect the quality, performance or lifespan of the gloves previously supplied."
First published by Cabin Crew Safety Ltd | June 2016-06-01
Article: 'FKK8/35KL issuance of EASA Form 1'

About Cabin Crew Safety Ltd: Cabin Crew Safety are a global supplier to the commercial aviation community worldwide. Based in the United Kingdom we supply SEP cabin safety equipment, original aircraft cabin/galley fittings, as well as representative training devices for air crew training.

Press Contact: press@cabincrewsafety.aero