Fully customisable Flight Attendant Safety Demo Kit
With a customer base that includes individuals, education and airlines, cabincrewsafety.aero offers a wide range of specialist manufactured products for aviation, including flight attendant safety demonstration kits (Part: 84000022) which can be fully customised during the production process; from adding your own or your customers logo to the front panel, right through to specifying the contents of the safety demonstration kits themselves. And the kits are so good that recently they have been purchased for operational use by cabin crew undertaking aircraft safety demonstrations onboard commercial aircraft!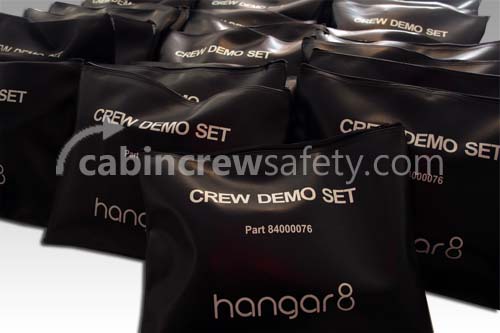 For colleges, academies and education
For colleges and academies (where FAA/JAR/CAA certification is not required) the standard safety demo kits can be purchased off the shelf but can also be customised with the name and logo of your college or academy. There is also no artwork origination charge if you are able to provide suitable artwork. Why not fit the kit out with one of our customised aircraft passenger safety demo cards with your college or academy logo brand too?
For operational use by cabin crew
For operational roles, aboard in service aircraft, the crew safety demonstration kits can be fire retardant treated to meet or exceed the requirements of CAA8, FAR25 (b) and JAR 25 (b), along with a certification of conformity and certified contents. The passenger life vest and passenger seat belt can also be customised to the fit out of the aircraft which the kit will it will be deployed to.
Just looking to tidy up the kits that you have?
If you already have flight attendant safety demo kits in your inventory then just the demo kit pouch itself may be purchased, allowing you to upgrade your kits or fit them out with your own inventory.
Flight Attendant Safety Demonstration Kits and Custom Flight Attendant Safety Demonstration kits feature:
New pouches branded with the cabincrewsafety logo as standard
Can be custom printed with your college, academy, airline or your customers logo to make them easily identifiable.
Customisable demonstration kit contents; specify any part numbers specifically required for a safety demo kit built to your precise specification.
Suitable for both training and in service use (International customer testimonials are available)
Can be treated and lab certified to CAA8, FAR25 (b) and JAR 25 (b) specifications, depending on requirements.
No artwork origination costs where suitable artwork can be provided (low costs if not)
For training use a range of aircraft passenger safety cards are available, which can be customised with your logo to match your custom cabin crew safety demonstration kit.
First published by Cabin Crew Safety Ltd on May 14th 2012
Article: 'Fully customisable Flight Attendant Safety Demo Kit'

About Cabin Crew Safety Ltd: Cabin Crew Safety are a global supplier to commercial aviation worldwide. Based in the United Kingdom and uniquely positioned in aviation safety; supplying both active safety equipment to aircraft operators but also training representations necessary in the initial and recurrent training of commercial air crew training.

Press Contact: press@cabincrewsafety.aero